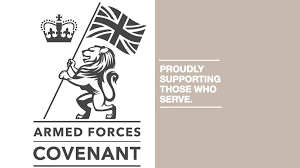 To serve in the armed forces can be one of the most fulfilling and proudest times of your life. It certainly was for me. I served for 9 years in the RAF Regiment only leaving due to a young family. 
But leaving the military for a career in 'Civvy Street', as we call it, can be immensely challenging. You live in what I can best describe as a protective bubble when you're in the forces. I left home and went straight into the military, so I never had that life experience of being a civilian who had to find somewhere to live, find a dentist and a doctor, etc. 
Imposter Syndrome
You have to adjust to life in the community at the same time as forging a new career. And one of the biggest challenges for me was imposter syndrome. A lot of people in the military come out and don't think they can do anything else. You spend your years being a trained soldier (or other trade) with a skillset that you think is quite specific.   
But what I soon realised was that I had these transferrable skills that could help me to be successful outside the military bubble I had become accustomed to. You have a lot more to offer than you appreciate. 
The Covenant
And it's because of the challenges I faced, that I made the decision to help others who are going through the same situation I went through. I'm now dividing my time between being a firefighter and Managing Director of my own health and safety training and consultancy company. And as MD of 1st Choice Safety, I signed up to the Armed Forces Covenant and became a forces friendly employer. 
What is the Armed Forces Covenant? I can't put it any better than how it's described on the website. 
'To those who proudly protect our nation, who do so with honour, courage, and commitment, the Armed Forces Covenant is the nation's commitment to you. 
'It is a pledge that together we acknowledge and understand that those who serve or who have served in the armed forces, and their families, should be treated with fairness and respect in the communities, economy and society they serve with their lives.' 
This scheme focuses on helping members of the armed forces community access services that will help them provide for their family, have a home, start a career and access healthcare and financial advice. And businesses of all sizes can all play their part by giving opportunities to former military men and women. 
Why I signed up
I feel really passionately about it because this was exactly the sort of support I needed when I left the armed forces. I already employ former military people but as part of my commitment to the Covenant, I'm now supporting another former RAF Regiment gunner, Stephen Peake, in his transition to a career in safety. He will be the first of many.  
Steve is a great guy and I want to be able to give him that support to establish a new career in safety, which is a great career route because there are so many transferrable skills. Jimmy Quinn, a former Army Warrant Officer, is now at the pinnacle of the safety profession as President of the Institution of Occupational Safety and Health (IOSH). 
My call to action
So my message to other businesses out there is this: people who served in the military were serving their country. Often they put their lives at risk to protect us. So the very least we can do is give them all the support they need to have a life after the forces. And if you want to employ someone with discipline, who turns up on time, who knows how to plan, and can manage risk, among other skills, then look no further than a veteran.